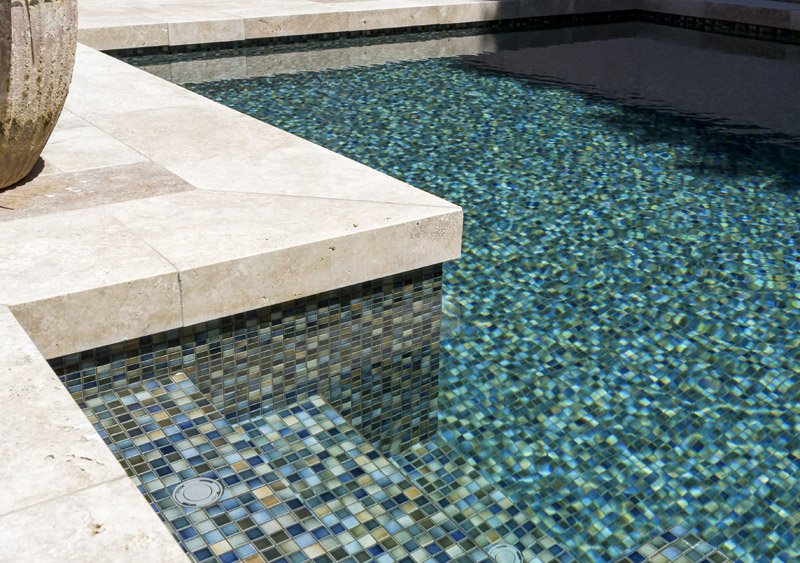 Shimmering like a tropical lagoon on a sparkling summer's day, this 9m x 4m swimming pool provides a sensory feast thanks to its striking mosaic tiles, 1200mm sheer descent water feature, and chic modern surrounds.
The sight of the fully tiled interior, with its myriad shades of greens and blues, is instantly captivating, while the soothing sound of a cascading waterfall creates a relaxing ambiance for the large acoustic enclosure. Together they capture the look and feel of a five-star resort – enabling the homeowners to enjoy a 'staycation' every day.
A saltwater chlorinator and pH balance sensor keeps the 48,000-litres of water sparkling clean and healthy for swimmers, while a 36.0m2 solar panel, pump and sun switch maximise the investment by significantly extending the swimming season. Sitting unobtrusively on the pool floor, underwater bench and steps is an automated in-floor cleaning system, which quietly rids the water of dirt, leaves and debris while also circulating pool chemicals throughout the pool.
Two energy efficient, LED lights illuminate the water after dark, which not only provides ample light for evening swims but also transforms the pool into an attractive water feature when the pool is not in use.  Frameless glass fencing provides the requisite safety feature without closing off the space or inhibiting the view of neither pool nor water feature when viewed from inside the home.
Sharp, clean lines combined with large format paving create a contemporary poolscape that is no doubt the centre of attention regardless of the season.