Castle Hill
Style:

Inground Concrete Pool with Raised Spa

Size:

9m x 3m

Interior:

Pebble

Coping:

Stone

Additional Features:

Stone feature wall
Sheer decent water feature
Extended ledge
Spill way spa
Contact Us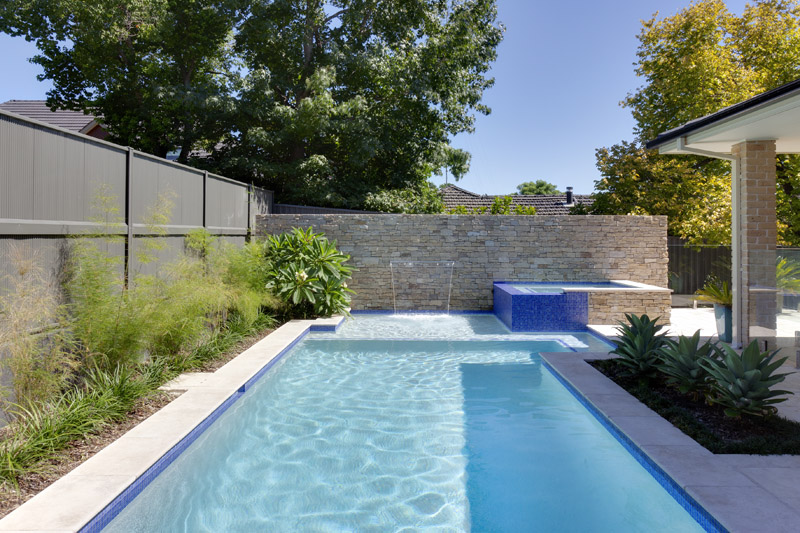 Castle Hill Inground Pool and Raised Spa 
To create a pool and spa that would complement the owners' home and enhance their covered alfresco area and garden, we designed a generous 9m x 3m in ground concrete pool with a stack stone feature wall which has a sheer decent water feature, and a raised spa finished with vibrant blue mosaics and matching stack stone on the exterior.
The water cascades into the pool over a submerged boardwalk below, which provides a handy swimming break for young children.
The same tiles were continued along the pool's waterline, step and submerged boardwalk. Stone paving for the coping and sundeck blends harmoniously with the home's exterior.
The 2m x 1.8m spa is cleverly integrated with the pool and part of the deck. It features a full length seat, spa jets and matching booster pump, an air blower installed in the ledge and an LED light. Gas heating ensures year-round use.
Water treatment & equipment:
The pool features saltwater chlorination and a sand filter with matching pumps.