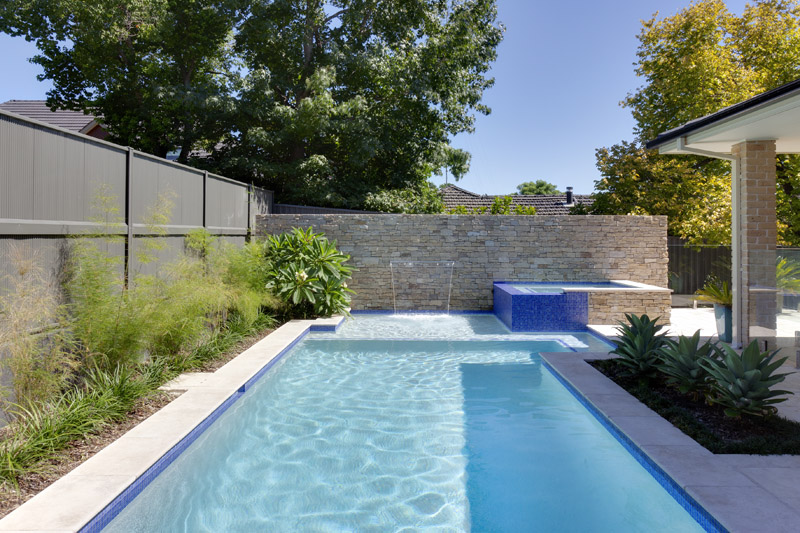 Creating a pool that would integrate with the home and enhance the alfresco living / entertaining space and rear garden was the clear brief for this project. Spanning 9m x 3m, the pool is a key part of the garden and, as such, was designed as much with practicality as aesthetics in mind.
Given the pool and spa are a key feature of the garden, different materials and finishes were utilised to create focal points.
The pool itself has a light blue hue, and vibrant blue waterline tiles have been used to define it and the raised spa. The spa is part-finished in the blue tiles (for the waterline, ledge and exterior walls), with stacked stone used for the other 'half' of the exterior. This blends perfectly with the stone-clad, raised feature wall that's located at one end of the pool. Stone has also been extensively used for the coping and sundeck.
A water blade water feature was installed in the stone wall, and this falls onto a submerged boardwalk to create an eye-catching feature.
The 2m x 1.8m spa is cleverly integrated as part of the pool and part of the deck. It features a full seat, with spa jets and matching booster pump, with an air blower installed in the ledge. Gas heating ensures the spa can be used year-round, and an LED light was installed.
The pool features salt water chlorination and a sand filter with matching pumps. There are also underwater LED lights in the pool to illuminate it at night and both ensure easy night-time swimming and a stunning feature that can be easily viewed from the house. Glass pool fencing ensures the view over the pool and spa isn't obstructed.